So you know how I keep saying I'm going to write a Lion King fanfic? I haven't gotten started on it yet, but a couple months ago my favorite fan comic artist had commission slots open and I really wanted one but didn't have any current OCs that I thought fit her style. I decided to go with these two, who had hitherto only existed in my head, and the artist designed them for me based on a brief description.

The lioness was going to be named Askari, but that got taken by a character in The Lion Guard. Lomela is the name of one of the lionesses at my local zoo, and I think it fits. The leopard cub is Paka.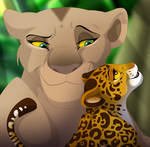 Special One by albinoraven666fanart on DeviantArt

What do you think? Pretty adorable, huh?